Classroom Programs
The Dillon Center also offers the following classroom programs. Please Contact us for more information.

Gymstars
Program takes place during school hours
Gymstars provides a fun-filled class with exciting skills to learn, brightly colored equipment and choreographed movement routines to motivate and challenge your child, all while offering a tremendous amount of fun! The class starts with lively music and dance designed to stretch and warm up for the favorite part of class—the obstacle course! Walk across the balance beam, roll down the mat, cartwheel over the rainbow. Our young gymnasts are led through an action-packed course of colorful, fun and tactile obstacles, learning a variety of tumbling and sports movement skills as they master the challenges in their path!

Music
Program takes place during school hours
Young children will have enriching and vital musical experiences that help them gain a sense of themselves and a connection to the world they live in.

Created by Kids
Program takes place during school hours
Created by Kids is excited to offer our ceramics class at the Dillon Center. The integration of art in a child's development can advance creativity and imagination while refining important fine motor skills. Clay is an enthralling and tactile medium for children to express their artistic creativity. Students will learn basic skills in hand building pottery. We will introduce a new project or idea each class, presenting different building techniques the children can use as a starting point to create a piece of art that is all their own. Each student will go home with unique projects they will be proud of!
After School Program
Parents of children currently enrolled at the Dillon Center may opt to have their children stay until 5 p.m. in our After School Program.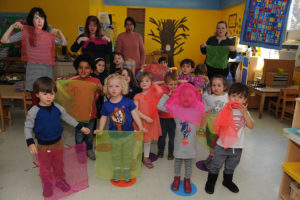 The program is staffed by Dillon Center teachers, and is an extension of the school day. The program is limited to 18 children on any given day, and enrollment is first-come, first-served. Parents may choose to send their child Monday-Friday, Monday/Wednesday/Friday, Monday/Wednesday, or Tuesday/Thursday. This is NOT a daily drop-off program; we want to form a cohesive group of children who will be together on a consistent basis.
After School Tuition for 2023-2024 is as follows:
5 days per week – $440 per 4 week session
3 days per week – $265 per 4 week session
2 days per week– $180 per 4 week session
NOTE: Payments are made 4 weeks at a time, and it is assumed that a child will continue in the program until the end of the school year unless there is significant notice given.